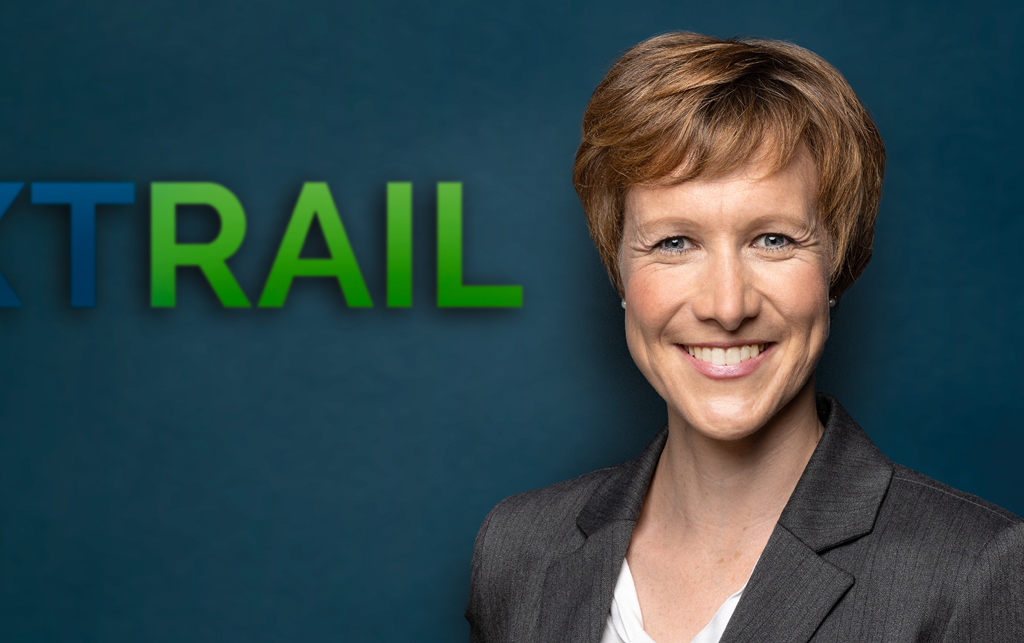 "Safety and approval management are interlinked and must be applied pragmatically."
Dr.-Ing. Sonja-Lara Bepperling
Dr.-Ing. Sonja-Lara Bepperling
Member of the Executive Board, Head of Railway Safety, Registered inspector for equivalent safety and risk assessment
Many years of experience in the preparation of system assessments and safety assessment reports
Highest expertise in risk analysis for the areas of ETCS and electronic interlocking
In-depth knowledge of safety and approval management
Contact Dr.-Ing. Sonja-Lara Bepperling at the Frankfurt am Main
Dr Sonja-Lara Bepperling is a member of the Executive Board and Head of Railway Safety at NEXTRAIL GmbH. For 15 years, she has been a proven expert in operational and technical risk analyses in the railway sector – in control and safety technology in particular. She possesses methodical expertise in risk and hazard analyses as well as in-depth knowledge of the processes involved in the approval processes. Her expertise is based on a wealth of experience from the operational, manufacturing and advisory side, including with the assessment body, at DB Netz AG as a system expert and at Ernst Basler + Partner AG as a project manager in the security division, among others. She made a name for herself in the industry years ago as the author of the ETCS Level 2 risk analysis and the NeuPro electronic interlocking risk analysis.
Dr Sonja-Lara Bepperling holds a civil engineering degree from TU Braunschweig (Brunswick technical university) and a Master of Science in Transportation and Highway Engineering from the University of Rhode Island. In her 2009 dissertation at TU Braunschweig, she describes the further development and validation of a semi-quantitative method for risk analysis (BP risk), for which the general requirements of European standards (50126) and European legislation (CSM-RA Regulation) were adapted to specific products. She was a lecturer at ETH Zurich, where she also coached doctoral students.
Since 2022, Dr Sonja-Lara Bepperling has been a recognised registered inspector for certifying at-minimum equivalent safety (PSV-GS) and for explicit risk assessments (PSV-RA) in the event of non-significant changes in accordance with the German ordinance on registered inspectors in the railway sector for the specialist area of signal, telecommunication and electrotechnical facilities. She is also an EBO railway operations officer for managers and supervisors.
Dr Sonja-Lara Bepperling has been training CSM-RA assessments and risk analyses for years. She is also a member of the DKE working group on semi-quantitative methods for risk analysis of technical functions in railway signalling technology VDE V 0831.
Personal project references for Dr.-Ing. Sonja-Lara Bepperling
German Unity Transport Project 8.1, DB Netz AG. Safety assessment reports for VDE 8.1 in Germany's largest railway project.
Gotthard Base Tunnel. Expert testing (safety-oriented testing) for AlpTransit Gotthard.
CSM-RA for the BTSF specifications. First-time application of the CSM-RA for the ETCS specification for railway lines (BTSF).
Risk analysis of NeuPro electronic interlocking, DB Netz AG. The world's first risk analysis for modular interlocking technology.
ETCS Digital S-Bahn, S-Bahn Hamburg. World's first implementation of ATO over ETCS with GoA 2.
CSM analysis of ETCS, CFL Luxembourg. Common safety method (CSM) risk analysis for ETCS Level 1 fully supervised interlocking.
Since 2017, the German Unity Transport Project (VDE) 8.1 – expansion of and new construction along the Nuremberg–Berlin line – has made it possible to travel by train from Berlin to Munich in just four hours at speeds of up to 300 km per hour. With state-of-the-art train control technology without trackside signals, ETCS Level 2 ensures maximum train passability while ensuring safe operation. For section VDE 8.1 (Ebensfeld–Erfurt), safety assessment reports were compiled for the first time in accordance with the CSM-RA ordinance for track systems and infrastructure buildings on this large scale.
The Gotthard Base Tunnel was officially opened in June 2016. As the longest railway tunnel in the world, it is a masterpiece of engineering. It crosses the central Swiss Alps in a north–south direction and runs from the north portal at Erstfeld to the south portal at Bodio in Ticino. The base tunnel is 57 km long and consists of two parallel single-track tubes connected by cross-cuts. As part of the safety-oriented testing (SIOP), RAMS documents for electromechanical installations were examined for the first time in accordance with EN 50126.
NEXTRAIL participates in update of the ETCS Level 2 specifications (BTSF). In the course of this, risk assessments have been conducted in accordance with CSM-RA for a wide range of change requests. Both the safety relevance and significance of the individual change requests (CR) were assessed.
For significant changes, the complete risk management procedure in accordance with the CSM-RA is applied and documented. This brings together different approval procedures (e.g. VV-NTZ and CSM-RA) for the preparation and evaluation of specification sheets for the first time. NEXTRAIL continues to support the development of specifications and is active in the areas of safety management, validation, verification, and the creation of explanation and estimation documents.
DB Netz AG's realignment of production control (NeuPro) was pioneering in the standardisation of interfaces for electronic interlockings, and since then it has been continued within the European organisation EULYNX. With the aim of providing industry standards for the new modular interlockings for digital rail. A comprehensive risk analysis according to EN 50126 was carried out for the NeuPro electronic interlocking from 2015 to 2016, including a RAM analysis.
This is the first time that operators have defined comprehensible and transparent requirements for the availability, reliability and maintainability of electronic interlocking systems. For the first time, the pre-standard VDE 0831-103 was used as the foundation for the safety requirements.
For the world's first pilot project with ATO over ETCS Level 2 with GoA 2 in real operation, NEXTRAIL provided the safety and approval manager for the infrastructure division. As part of this project, the ATO over ETCS system with GoA 2 was approved for the first time, evaluated for safety and successfully put into operation. At the same time, it marks the first national implementation of the German regulation on granting operating authorisation for the railway system (EIGV) and the testing the German sectoral guideline for the authorisation assessment of signal, telecommunication and electrotechnical facilities.
In 2018, the Société nationale des chemins de fer luxembourgeois (CFL) planned to erect new electronic interlockings in combination with ETCS Level 1 FS and innovative trackside light signals with two light points. The measure includes the replacement of eleven existing interlockings and will be implemented in staggered sub-steps both in terms of functional scope and geography.
As part of the project, NEXTRAIL performed the risk management for the overall project in accordance with CSM-RA on behalf of CFL. The analysis included the following scope of services: development and creation of the CSM documentation, communication with the assessment body on behalf of CFL, and project management and coordination with the Société nationale des chemins de fer luxembourgeois.